How to Start Your Flooring Design Project: 4 Priorities
Kermans Flooring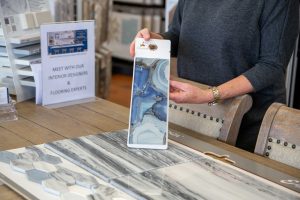 New flooring can transform your home and make it all the more enjoyable as a living space. Obviously, this isn't an overnight project, like adding plants to your deck or buying new doormats. You'll achieve your best results if you plan ahead – and you'll enhance your plan if you make sure to include four factors that can help you elevate your results.
Mood and inspiration
What's your style? What kind of mood do you want your home to evoke? Your floors literally provide the foundation for the story your home tells about you. Are you casual? Formal? In love with marble checkerboard patterns or a big fan of rustic hardwoods? It's almost impossible to find the right flooring – and love what you choose – if you don't take the time to figure out what you want your home to say about you.
Take the time to put together a "look book" that includes options you find inspiring. You can pull these from magazines, take photos of rooms in other people's houses or even in public places, and compile a set of design references that convey the essence of your style. To make this even easier, we've added a flooring visualizer on our website at kermans.com that enables you to snap a photo of one of your rooms and see how it would look with virtually any of the options we offer. Download and share as many images as you like and view them offline to find the ones that feel right.
What aspect of your current flooring motivates you to want to replace it? Did you buy a house that needs updates before it really feels like you? Have you outlived your current flooring or are you simply ready for a change? Some of these questions will help you decide what you don't want, which is a critical discovery on the road to achieving your personal aesthetic. Lifestyle factors also make a difference in the types of materials you choose, whether you're trying to avoid damage from pets and children or want to opt for heated floors to make baths more hospitable.
Priorities
If you're like many people, when you start planning to redo the flooring in one part of your house, your ambitions expand. What started out as a new kitchen floor becomes kitchen plus living room. What began as a full-bath update turns into a new vision for full and partial baths. Unless you're ready for a major renovation project, you'll probably want to focus on your top priorities first. Whether you're motivated by the condition of an existing floor or simply dislike how part of the house looks enough to feel a sense of urgency about it, you'll have an easier time with your project if you decide what goes first – and perhaps trim some parts of your plan down to what you can realistically handle.
Budget and timing
Here's the real nitty gritty of your project: How much do you want to spend and how soon do you want to proceed? Of course, your budget determines many other things about your project, from materials to scope, but the wide variety of new materials on the market means that you can find many ways to achieve the same result. Suppose you fall in love with hardwoods but can't quite justify the price. Laminates can offer you the same looks – in fact, a much-wider range of options – at a potentially lower cost.
What to do and what to delegate
The do-it-yourself urge is strong in some homeowners, either because they see DIY as a way to save money or because they just like the sense of accomplishment they gain from improving their homes themselves. Flooring may be more of a challenge than you think, with its demanding measurements and complex subfloor requirements – and to get the best results, you really need expert care and attention from a professional design consultant and installation team. At Kermans, we have both, and we're ready to help you select from the latest in high-quality flooring to turn your vision into a reality. Bring your ideas and dreams to our showroom for an
in-depth consultation
and find exactly what you need.