Vary Flooring Plank Widths and Lengths for Looks and Style
Kermans Flooring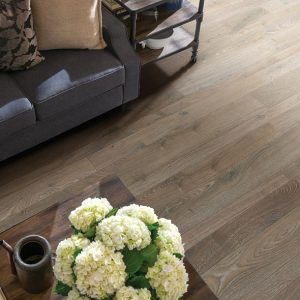 Step into an older home and you're likely to see lovingly restored original narrow-plank hardwood floors, often made from oak boards. That older 2.25″-3″ width standard dominated home designs for decades, but in recent years, homeowners have opted for many alternative widths, as two trends have enhanced the available options for new flooring, including alternate plank dimensions and new material choices.
Today, just because a floor looks like hardwood doesn't mean it is. Laminates and other engineered materials can give you the appearance of traditional woods with greater water resistance than nature can provide, and the ability to select the color of your floor so you'll know exactly how it will look before it's installed. Along with convincing emulations of natural materials, laminates also come in plank widths that range from old-style narrow to 5″, 12″ or even 24″.
Part of the appeal of wide planks is the practical desire to reduce the number of seams on your floor, both to create a cleaner, more uncluttered look and to minimize areas that can trap dust or dirt. At the same time, wide planks can transform a large room into a cozier space, just as narrow planks can increase the perceived size of a smaller space. Likewise, you can make a narrow space look wider with planks that run parallel to the longest wall and multiply the visual effect. In smaller rooms, however, wide planks may be difficult to optimize to the dimensions of your space, and wider-plank hardwoods offer lower resistance to humidity, which can cause them to cup in response to moister air, a big consideration in areas with wide swings in climate. These big boards need more room to expand and contract, and may buckle, warp or shift more than narrow planks do.
While you're considering wide planks, you also can build a creative look with mixed widths and lengths. Random-width planks can give you the look of hand-sawed wood and create a strikingly rustic style that's right at home in casual interiors. These floors hearken back to Colonial home-building traditions and hand-fitted floors created from trees cut near the home site. Varying widths reflected the need to create as many as boards as possible from every piece of timber.
To optimize the mixed-width effect with modern materials, use three different widths that vary by 1″-2″, mixed so the board sizes don't cluster together. Just as bricklayers mix different shades so they don't create clumps of color, your mixed-width floor should avoid unintentional patterns. If you like the look of deliberately patterned flooring, you also can create chevrons or parquet with mixed widths.
Plank length intersects with room style and adds some practical considerations. Shorter planks mean more seams, and too-short planks create a quilt effect that looks choppy or patchworked, especially with wider boards. Longer lengths add continuity and visual proportion, leading the eye across the room in a continuous sweep of uninterrupted lines.
One of the beauties of wider and longer planks – hardwood or laminate – is the amount of character they can reveal in the wood itself. On narrower planks, grain becomes less obvious, and narrow hardwood boards typically exclude knotted areas because they potentially weaken the wood. Go wide, and both these features can enrich the look of your floor, with a rustic appearance that suits a casual style. For a sleeker, more-modern look, you'll want unknotted planks that suit the minimalism of this approach.
Natural hardwoods tend to carry higher prices as plank widths or lengths increase, simply because manufacturers must cut them from larger, taller trees that are in shorter supply. If you love the look of wide wood flooring but prefer a more affordable approach, planked laminates can make these styles easier on the budget.
Whether you're in love with traditional narrow flooring, want a bold, wide look or find the mixed-width style attractive, the design experts at Kermans can help you plan the right approach to suit your tastes. Visit our showroom and find the right plank dimensions for your home décor.