Everything Old Is New Again: Black-and-White Checkers, Terra Cotta and Concrete Flooring
Kermans Flooring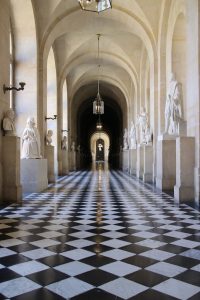 Rather than chase trends when it's time to renew your flooring, look to traditional choices for lasting designs that never fall out of favor, including checkerboard patterning, terracotta tiles and poured or tiled concrete. If your notion of these options hearkens back to mid-20th-century implementations, freshen up your expectations and prepare to get excited about how these styles can look today.
Get in the game with checkers
Checkerboard flooring makes most people think of Renaissance palaces, equally palatial homes and classic diners, but this tradition goes all the way back to Egyptian temples and Roman architecture. The black-and-white look sends a classic message that can echo a formal interior or contrast with more-casual styles.
Don't limit your checkerboard vision to two-color monochrome, however. This bold pattern now extends into multicolored aesthetics and wood looks, and transcends dark-with-light contrast. Of course, light colors and bright whites make your room look bigger, especially when you choose large tiles. Beyond squares, look at other shapes such as hexagons or even fans to build even more interesting designs, including "trickled" floors that gradually blend from one material to another.
One of the beauties of checkerboarding your floors is the wide range of materials you can choose to tile your design. Ceramics, concrete, composites, encaustics, marble, patchwork looks, porcelain, stone, terrazzo, vinyl and more: Any material is fair game, and tile sizes range from small enough for intricate designs to large and dramatic. Don't forget your grout, because it can add an exciting touch – or simply accent the overall pattern. Formal or informal, this tiled tradition can thrive in high-traffic areas, and you can execute it anywhere from a foyer to a kitchen or bath, as well as in playrooms and basements.
Try terracotta
The rustic, handmade look of terracotta tile makes a strong impression in earthy hues that attest to its origins as kiln-fired "baked earth" made from red clay. Terracotta options often use either a traditional or a synthetic sealant that saturates the tiles before grouting to eliminate their porous nature and protect them from picking up dirt. Traditional sealants require a long list of steps and a lot of time, along with wax treatment after the fact, but synthetics simplify the process, although they do typically make the tiles look less antique.
Matte-finished terracotta avoids the glaring glaze of older implementations of this option, with natural looks that can fit anywhere. Today's terracotta is easy to clean as well as easy on the eyes, and it can make a zesty transition from outdoors to interior. If you're not up for a full-room treatment, consider using terracotta tiles as a border around a room with another type of flooring.
Make a concrete choice
Painted or simply sealed, concrete floors can add a high-tech industrial look or take on a wide variety of appearances – from tile to rugs and floorboards to stone – with decorating techniques that can add borders and stencils through etched or painted patterns. You'll find fewer colors to choose if you decide to paint your floors, but it's possible to custom mix additional shades. Although concrete can feel hard under your feet, it's a great choice for minimizing allergens that can live in fibrous floor coverings such as carpet, and it's a safety-first choice that can provide slip resistance.
Durable, moisture-resistant, easy-to-maintain concrete can last a lifetime, and so can the unlimited range of surface treatments you choose. The look isn't for everyone and may not be your first choice if you have small children, but it's pet friendly and can give your rooms a spectacular look that's unique to you. In fact, if your home already includes concrete subfloors, you can strip them down and enjoy the lasting beauty of what lies underneath carpet or tile.
Add area rugs to concrete floors for greater warmth and comfort, especially in places where you'll stand for longer periods of time. Remember that concrete makes an idea choice for rooms in which you want to add radiant heating. Properly sealed, a concrete floor requires nothing more than basic sweep-and-mop cleaning to maintain it.
Regardless of which directions you want to explore as you plan new looks for your flooring, the design experts at Kermans can help you find today's latest options and sort them out for your complete satisfaction. Visit our showroom to match your aesthetic with your plans for a result you'll love.