Waterproof Vs. Water-Resistant Flooring: Vinyl Vs. Laminate
Kermans Flooring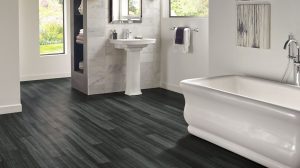 "Waterproof" and "water resistant" may sound almost the same, but the two terms define very different capabilities. Water can't penetrate waterproof flooring, period. From outer surface through the core of the material, waterproof flooring won't buckle, swell or warp in response to liquid or humidity. It's a more-expensive option than water-resistant flooring, which can handle small amounts of water for short periods of time.
Waterproof options
Submerge luxury vinyl flooring in water and it won't absorb a drop. In fact, where subfloors present water problems, waterproof vinyl offers the best option underfoot. This 100% synthetic material excels in basements, baths, kitchens and any room that includes a source of water or frequently sees liquids, especially ones that won't receive immediate attention. A waterproof floor remains undamaged in a flood, and even if the subfloor sustains damage, you can reinstall the flooring itself.
If your notion of vinyl flooring dates back to inexpensive apartment kitchens and baths, with fabric or felt-backed material that wasn't waterproof, you're in for a huge surprise. Today's luxury vinyl looks and performs nothing like the material of yesteryear. In fact, you may not be able to look at a set of samples and identify which one is vinyl. It can look like wood and feature a planked appearance like laminate, but it also can resemble stone and other surfaces. You'll find two basic types: waterproof core vinyl and engineered vinyl plank. It's also easier on the feet than tile.
Waterproof vinyl flooring often consists of four layers: The backing or base, often made of PVC-coated fiberglass; a solid vinyl core; a printed vinyl layer with photorealistic imagery that looks just like natural materials; and a topmost urethane wear layer that accepts embossing and protects from scratches and dents. This sandwich is easy to maintain, especially on products with a thick wear layer, and only needs occasional vacuuming and mopping.
The only downsides to waterproof vinyl? It's less resistant to dents than other materials, isn't puncture resistant and may fade in direct sunlight. Self-adhesive vinyl flooring tiles can peel up. And although vinyl can look like wood, that similarity ends at your fingertips and toes. To the touch and underfoot, vinyl is vinyl. Finally, if you sell your home, many buyers prefer true hardwood over other hard surfaces.
Water-resistant choices
Laminate first appeared in the 1970s as a synthetic alternative to wood. Among the most-popular water-resistant options, laminate flooring uses a backing layer topped with a resin-bonded wood-byproduct core, a printed design layer and a top-surface wear layer. With realistic 3D embossing to create surface textures, laminate makes a great stand-in for ceramic, stone or wood. Laminate tends to look more like the natural materials it mimics than vinyl does, although vinyl is catching up in the texture department.
That fiberboard core reacts poorly to water, which partially explains why most laminate flooring only offers water resistance. Properly installed, laminate can handle a puddle or two but not for long, and only if its planks have tight seams. Expose laminate to water, and the core softens, swells and won't regain its shape after it dries. Scratch resistance makes laminate a good choice in homes with pets, but its lack of waterproof performance rules it out in rooms with water sources and in the often-moist environment of basements.
Laminate can offer durable performance and easy-care maintenance, but it can delaminate as it ages or if it's exposed to too much water. Roll-on chemical seals on the seams or wax applications can help boost water resistance, but you'll have to replace water-damaged laminate.
Whether you choose waterproof or water-resistant flooring, be sure that you find the right options for your rooms and your lifestyle. The design experts at Kermans can help you sort through the choices and select the right ones for your lifestyle. Visit our showroom to see our wide selection and find the perfect fit for your home.