Radiant Heat: Let Your Floors Warm You Up
Kermans Flooring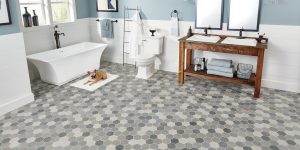 If you've lived with forced-air heat, you know that even in a home with an efficient system, your rooms can develop hot and cold spots. Parents with small children worry about little feet near hot registers in the floor – and no one wants to step into a cold bathroom floor while barefoot. The solution to all these problems can be a radiant heating system. Although radiant heat may not be ideal for every room in your home, it can make a big difference in your comfort if you incorporate it strategically.
How it works
Radiant heating supplies even warmth across a room with heat that rises up directly up from below your feet, warming you directly. With electric or water-based heating elements installed under the floor, these systems use no blowers or fans, and unlike baseboard heat, they cover the entire floor, not just its perimeter.
Electric systems
Like a large electric blanket, electric radiant heat uses a system of under-floor cables that warm up through electrical resistance. In rooms with irregular shapes or that require the cables to work around interruptions such as plumbing fixtures, installers typically roll out a continuous spool of cable that they arrange at 3″ intervals across the floor.
In rectangular rooms with no interruptions, installers can use a fiberglass mat that carries wire mesh or loops of cable and includes a self-adhesive backing. A programmable thermostat controls the heating periods, so the system only runs when you need it.
These systems can be less expensive to install than other radiant heating options, but they can carry fairly high operating costs, depending on how much you pay for electricity.
Hydronic systems
Instead of electrical wires, hydronic radiant heating uses a system of pipes below the floor to carry water from a closed-loop system that uses a boiler as a heat source. The piping runs through concrete or a channeled plywood underlayment. Installation requires a licensed plumber, and installation costs typically exceed those for an electric system. However, once you install a hydronic system, its operating costs are low.
Advantages over forced-air heat
Forced-air systems distribute warmth from registers that blast hot air up into a room, heating the area adjacent to them more than areas farther away, which creates hot and cold spots. Some newer construction places forced-air vents in the ceiling, which works better for cooling than for heat, but both systems share ductwork, and these high-placed vents make inefficient heating sources.
Regardless of where you place HVAC registers, forced-air heat creates a greater temperature increase near the ceiling than closer to the floor, where people and pets look for comfort. While the system runs, the room stays hot – perhaps too much so – and after its blower shuts off, the room becomes cold again. Additionally, these systems can harbor and distribute dust and allergens every time their blowers activate. Because of all the moving parts involved, forced-air heat creates noise that can interfere with conversations or make it difficult to listen to entertainment.
Remodel vs. new construction
Radiant heating systems make for easier installations into new construction than in any other scenario, simply because of the amount of infrastructure involved in setting them up and the need to place wires or pipes under the floor. If you're planning an in-depth remodeling project and don't mind replacing the floor in one or more rooms, radiant heat can be an easy choice, especially in rooms in which you typically walk barefoot.
Flooring recommendations
Although you can install virtually any type of flooring over a radiant heating system, this technology lends itself best to floors that conduct heat, such as stone or ceramic tile. Hardwood flooring may shrink or warp in response to the heat source. Carpet, especially with thicker padding, tends to act as an insulator and hold heat in, which diminishes the system's ability to supply warmth into the room itself.
Radiant heating can boost your comfort, with even warmth throughout a room and under your feet. If you're interested in including this technology in your plans for new or remodeled construction, the design experts at Kermans can steer you toward flooring choices that work ideally with radiant systems. Drop by our showroom or schedule a complimentary consultation to see new flooring options for your project.