The Enduring Appeal of Dark Hardwood Flooring
Kermans Flooring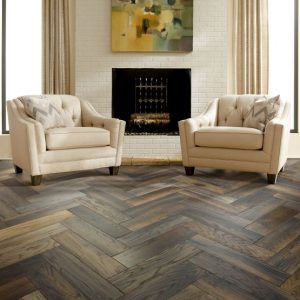 Dark hardwoods offer a rich depth of color, and add contrast – along with a formal touch – to the décor of your room, especially paired with light-colored walls and furnishings. Unlike lighter hardwoods, deeper-toned options prompt some decision making to assure a harmonious interior, successful color scheme and easy cleaning. If you have your heart set on dark hardwoods, rest assured that these choices remain popular, and that expressing your tastes makes your home a holistic statement of your style.
Contrast, harmony and ambience
Remember that all hardwoods darken as they age, so choose dark hardwoods that harmonize with dark cabinetry or furnishings. For example, select flooring that completes the look of red-toned kitchen cabinets or mahogany furniture rather than appearing to clash. Typically, your best options combine dark flooring with light-colored cabinetry and vice versa to set up an attractive contrast. Dark floors also can make a room look smaller and shallower, but strategically placed light-colored area rugs can offset that effect.
Maintenance
Dark hardwood floors can require frequent, diligent cleaning efforts to avoid making the slightest speck of dust readily apparent. Their beauty makes them an attractive option in the right setting but be sure you're ready for their upkeep. To offset their high maintenance, select a surface texture that hides dust and puts you right on trend.
Hand-scraped surfaces
True hand scraping adds long distinctive marks to the finish and produces planks that look like the unique result of hand crafting. Some hand-scraping techniques rely on machined surfaces that create greater uniformity among planks. Especially in large rooms where repeats can become readily obvious, be sure you obtain the finish you want. The deliberate "flaws" in hand-scraped flooring can help obscure dust that otherwise might be obvious on darker hardwoods.
Distressed finishes
Similar in appearance to hand-scraped finishes but with more wear-and-tear details, distressed hardwoods incorporate everything from burns and scrapes to wormholes and knots and can approach the appearance of reclaimed wood. Because distressed flooring looks antique, it may not be the obvious choice for a minimalist room with modernist furnishings. Although this treatment is less obvious on darker wood, the irregularities of its surface texture help mask dust.
Wire-brushed textures
This finishing technique involves smaller, more-consistent scratches than hand-scraped or distressed flooring, but it also hides dust well, even on darker colors. The greater subtlety of the technique makes it a better choice for a wider variety of interiors than other options because it enhances wood grain for more visual interest.
Satin, matte and piano finishes
When you want a uniform look, especially across a large expanse of flooring, shiny piano finishes can give your hardwoods a sleek appearance, although their strong visual statement has fallen out of the trend spotlight. Unfortunately, you'll need to stay ahead of dusting and care all the more diligently with this type of luxurious sheen, which highlights the slightest bit of dust on a dark wood floor. Unless you really love shiny finishes, look for a low-luster option that fits in with current styles, including satin and matte options.
Patterned installations
Herringbone and chevron floors use angled planks to create a patterned appearance. Diagonally installed flooring adds a similar but simpler look with abundant visual interest. The materials for these techniques can carry a higher price tag because of the angled cuts required for proper installation. These options create less of an impact with dark hardwoods because the patterns can be more difficult to see than on lighter floors.
Wear and tear
Most dark hardwood flooring consists of lighter-colored wood species treated with stains. Scratches can reveal the unstained color of the wood and make a floor show its age, especially in high-traffic areas and in households with dogs, cats or children. For easy maintenance, look for high-quality materials and finishes with an extra coat of protectant.
Dark hardwoods add a polished look to your interiors, can last a century or longer and give you the option of refinishing your floors to update their color and finish. New ways of cutting and finishing woods create new looks that expand your options even further. The natural variation, authentic look and feel of hardwoods can give your interior the foundation it needs for your unique style. To find the right dark hardwoods for your home, ask the design experts at Kermans Flooring to help you find your ideal options. Schedule a complimentary consultation or stop by our showroom to see our lineup of high-quality options.