Showcase Your Décor With Blonde and Gray Hardwoods
Kermans Flooring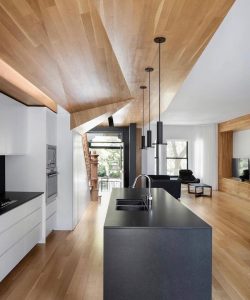 Flooring trends come and go, but timeless options come back into style or never go out of favor. That's the case with light-colored hardwoods, which continue to win over homeowners with their ability to make any room look bigger, brighter and more inviting, even in smaller areas or those with lower ceilings. Along with the open feel they add to a room, these lighter-colored woods create a neutral undertone that can handle décor styles from rustic to sleekly contemporary, paint colors from deep to pastel, all with the easy-care ability to cut down on cleaning time. But you'll need to choose your hardwoods with care, as these options can last 50 years or more.



If your reference point for light-colored flooring harkens back to medium-stained oak – the wood of choice for decades – or the yellowish tones of aging clearcoats, you'll find ample pleasant surprises among today's hardwood choices, although many of them represent new takes on classic styles. Some of these hardwoods redefine light-colored flooring to make a strong statement in a contemporary or transitional interior.





Blonde hardwoods can match your tastes, regardless of whether you prefer warm or cool tones. Warmer colors may strike a more-casual, homey tone and cooler colors may invoke modern looks, but you can express your vision in unique ways. Whether you choose European oak or the new-style environmental friendliness of bamboo, you'll find durable, appealing selections in a full spectrum of golden shades. Among light-colored flooring options, blonde hardwoods hide scuff marks, unlike trendy whitewash looks, and don't require as much vigilance to keep clean.





Gray flooring reached popularity in the last decade and has held on to its desirable status, providing an enduring choice for cooler good looks. From the bright gleam of light gray to the dignity of darker colors, you can leverage these tones to contrast with dark furniture or set off bright contemporary artwork. The neutrality of these cool shades can showcase dramatic colors or provide a base for an all-gray look. If you're torn between blonde and gray, consider gray-washed blonde hardwoods, or mix the two colors in a herringbone pattern.





In addition to flooring color trends that favor blonde and gray, the midpoint between the two combines gray with beige to produce greige, livening up the minimalist look to harmonize with any colors or interior style. Greige offers an ideal option for those who find gray too reminiscent of cement and want to add a more natural look to their floors. Like blonde hardwoods, greige runs the gamut from cooler to warmer tones.





Some interior designers prefer hardwoods that look more like the natural shades of raw wood. To achieve these looks, start with woods that come close to the final shade you want to achieve, and visualize finish as a stylish accent rather than just the combination of stain and sealant. From "piano" finishes with the high-gloss gleam of a classic baby grand to hand-scraped textures that add the look of artisanal flooring, you can find a wide variety of surfaces, including flat and matte. If the worn-in beauty of scraped textures appeals to you, remember that unlike hand processing, automated scraping produces recognizable, repeated patterning that may not convey the authentic look you want to achieve.





Hardwoods add lasting beauty that can anchor your interiors with the gleam of natural materials, and with a wide choice of plank widths from narrow to broad, you can achieve your unique style. To realize your vision, ask the design experts at Kermans Flooring to help you decide which options match your tastes. Schedule a complimentary consultation or stop by to see our lineup of hardwoods.