How to Create Healthful Interiors With Certified Flooring
Kermans Flooring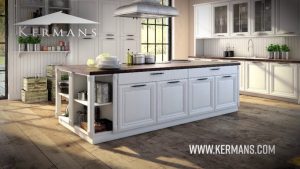 You want beautiful floors that express your style and complement your décor. If you have children, suffer from chemical sensitivities or allergies, or simply want to use the most environmentally friendly options on the market, you can take flooring to a new level with certified products that help create a home that's as healthful as it is beautiful. Look for tested options that meet rigorous criteria for their quality control, materials and indoor air-quality (IAQ) performance.
Like everything in your home, including paint, furniture and fabrics, flooring products can off-gas, or emit, volatile organic compounds (VOCs), chemicals that can have an adverse effect on your health. VOCs produce the smells you associate with a new car, fresh paint or new carpet, but because we spend 90% of our time indoors, VOCs can have a greater impact on long-term health than many people realize.
VOC concentrations run up to 10 times higher indoors than outside. Depending on your sensitivities to these compounds, VOC exposure can produce symptoms ranging from irritation in your eyes, nose and throat to headaches, fatigue, dizziness and more. To curtail your exposure to VOCs and limit their impact on your health, two special certifications show that specific flooring products meet EPA standards for VOC out-gassing and can help you create good indoor air quality.
The FloorScore® IAQ certification standard covers hard-surface flooring materials, adhesives and underlayments. The Resilient Floor Covering Institute (RFCI), a major industry trade association, developed this standard in conjunction with SCS Global Services, a leader in third-party certification of environmental sustainability.
The California Department of Public Health's (CDPH) Standard Method for Volatile Organic Compound (VOC) Emissions Testing and Evaluation provides FloorScore's criteria for testing a product's chemical emissions. FloorScore reevaluates certified products annually to verify that they continue to meet its standards.
The FloorScore label shows that a product qualifies for the U.S. Green Building Council's Leadership for Engineering and Environmental Design (LEED) standards, the gold standard in green-building ratings; the Collaborative for High Performance Schools (CHPS), a national standard for new and renovated school construction; the WELL Building Standard, an international performance-based evaluation of the built environment; the Green Guide for Healthcare, a set of global sustainability standards for care-facility construction; and other standards for healthful buildings.
Like FloorScore, GREENGUARD certifies a wide range of products, including flooring materials, based on the standards of the EPA, CDPH and other environmental agencies. Air Quality Sciences, Inc. founded the GREENGUARD Environmental Institute in 2001 to create a product certifier that could support indoor air quality. Today, GREENGUARD forms part of the Environment division of Underwriters Laboratories (UL), one of several companies authorized to perform safety testing for the U.S. Occupational Safety and Health Administration (OSHA). The U.S. Environmental Protection Agency (EPA), among other entities, has adopted GREENGUARD emissions limits as purchasing specifications.
GREENGUARD's two certifications represent dual emission standards that validate manufacturer claims with unbiased science. The GREENGUARD Indoor Air Quality Certification represents the standard level of VOC testing for interior products. The GREENGUARD Gold Certification includes more-stringent guidelines that regulate products designed for areas in which children live, learn and play. The UL SPOT database lists all certified products, which are subject to manufacturing-process review and testing.
Look for the FloorScore label or GREENGUARD Certification mark as your guarantee of the indoor emissions performance of flooring materials, and rest assured that they help protect your good health while they beautify your home. Ask the design experts at Kermans Flooring to help you evaluate your needs and choose the right certified options to meet them. Schedule a complimentary consultation or stop by to see our environmentally accredited products.