How to Transform Your Space with an Area Rug
Kermans Flooring
The right area rug can transform a room or create a focal point by defining a space with added color, texture and style. With a seemingly endless selection of sizes, colors, patterns and materials, choosing the right area rug can be daunting. But here's a few tips for inspiration to make choosing one more fun and a little less stressful.
Where shape is concerned, there are no hard and fast rules, and personal preference is the name of the game. However, if it's a streamlined, linear look you're aiming for, go with a rectangular rug. If your goal is to break up or add contrast to a more linear room, go with a round or oval-shaped rug and add a bit of visual interest.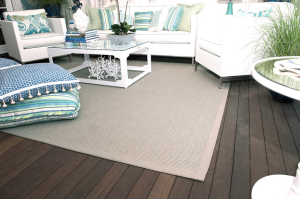 Again, an area rug should help define or accent a space. It can be used to separate rooms or certain areas, such as a living room from a dining room, if your home features an open-plan concept In other words, in the world of area rugs, size and scale matter – you want to perfectly delineate one space from another and avoid having your area rug look like wall-to-wall carpeting. The general rule is to keep at least one foot between the edge of the rug and the edge of the room or space.
When it comes to furniture placement on or around a rug, it's completely up to personal preference. For a bigger room, you can opt for a rug large enough to contain all four legs of any sofa, chair, coffee table or side table; for a smaller room, you can select a rug containing just two legs. If you're looking for an area rug that has to be a specific size for your room layout, however, you may have to go the custom route. Pre-made area rugs only come in certain sizes, but with a custom-made area rug, you can choose any size, shape or color, and you can add special features like a border made from a different material. Custom-made rugs also create one-of-a-kind looks for your space.
When looking for an area rug, be sure to pick one that gives your space a cohesive, holistic look. Color is the best way to achieve this. When choosing a color, be sure to replicate colors already present in your space, or choose colors in the same palette. Another way to ensure a harmonious look for your space is with matching rugs. But if "matchy-matchy" isn't your style, there's a way around that. You can choose rugs with similar tones but made from different materials or with different textures. This allows you to still differentiate between spaces while maintaining a cohesive look. Working with different patterns in one space is a bit tricky, so instead, combine patterned rugs with neutral-colored solid rugs or one that's within the same color family.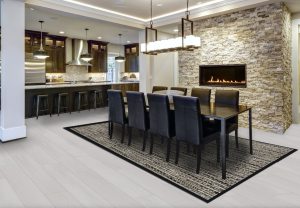 A big trend in the last couple of years has been layering carpet with rugs. It's a great way to add more visual interest to your space, but once again, color and texture are critical. To layer successfully, be sure to choose colors and patterns that complement each other with similar tones – again, cohesiveness is what you're trying to achieve. For example, a cowhide rug layered over a jute wall-to-wall carpet installation adds ample visual interest and, because they're both neutral in color, maintains cohesion while adding a pop of color or pattern to the space, creating a focal point in an otherwise less interesting space.
What an area rug is made out of is also important to consider. Today's area rugs are made from a wide range of natural and synthetic fibers, and its location will often determine what kind of material to go with. There are several options, including:
·

Wool. If you're wanting to create a cozy, more intimate space, try wool. It's an eco- friendly, renewable resource and is usually specified for its fiber durability and soft nature. Wool, being a natural fiber, repels stains, water and improves indoor air quality. Wool rugs are usually best for living and dining rooms as well as high-traffic areas and are generally a more expensive alternative to the fibers listed below. Some manufacturers combine wool and silk fibers to soften up the feel of the rug.
·

Sisal, jute, sea grass. These durable, natural grasses and other fibers are neutral or earthy in color and provide rich textures, making them easy to work into any interior space design. And, because the fibers are made from renewable sources, this option is environmentally friendly. Area rugs made from these materials are ideal for high-traffic areas.
·

Synthetics. Synthetic area rugs, including those made with viscose, nylon and/or polypropylene textiles, have vastly improved in look and design over the past few years and are now often hard to tell apart from rugs made out of natural materials. They're perfect for hallways and outdoor areas (primarily polypropylene area rugs) because they're extremely durable, easy to clean, and water and UV resistant.
A new area rug is an ideal, relatively easy way to change up your interior space. With the selection of shapes, sizes and materials available today, your space is a blank canvas just waiting for you to give it a bold, refreshing new look. Luckily, the design experts at Kermans Flooring have the knowledge and experience to help you make just the right selection. Stop by today or schedule a complimentary design consultation.