Making a Statement with Texture
Kermans Flooring
Homeowners everywhere are always looking to update the look and vibe of their homes, and they often start with flooring. But in a sea of options, nothing beats textured flooring in creating visual interest for your living space.
Texture can be accomplished a couple different ways, either through the direct embossing or texturing of the flooring material or through the use of patterns. In addition, the range of textured flooring options and materials available is almost endless, providing lots of potential design ideas for changing up a room.
According to Kermans Design Consultant Jessica Dault, textured flooring is the perfect way to make a statement, create a specific look and feel, or create a wow-factor focal point. It's also useful in offsetting negative space or complementing a monochromatic color scheme.
"Texture can be achieved visually through how something looks, or in a more literal sense through physical touch. Texture is more than how something feels, it's also about how something's perceived to feel. Texture creates that sensation of curiosity and evokes a sense of wonder that teases our sense of touch."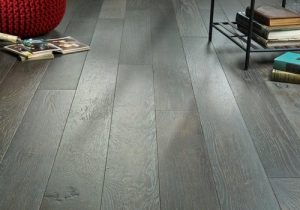 Textured flooring is available in both hard- and soft-surface options. Hard-surface flooring options include wood, laminate, and ceramic, porcelain and natural stone tile. Soft-surface options include carpets and rugs made of wool, nylon, polyester or other materials featuring different pile heights, depths and color blends. Both are available in a broad range of colors and patterns and are fast becoming one of the most versatile and popular go-to trends in flooring, especially vinyl and laminate plank.
For example, if you want the refined look of hardwood without the maintenance, there are several options in laminate and other materials that feature the depth, grooves and visual interest once only available in hardwood flooring. And wood-look flooring now has such high quality that people often can't tell it apart from the real thing. Not only is there an almost limitless range of options to choose from based on your design goals, but these materials often offer greater durability and water resistance, making maintenance simple and nearly worry free.
Hard and soft-surface finish techniques
Textured hard- and soft-surface flooring options have their own unique look and feel and can be used to create any mood or look you're wanting to achieve. Options include:
·

Hand scraped flooring, which features long, ingrained scrapes and lots of variation between planks, plenty of character and a unique, handcrafted look. Hand scraped flooring is available in in a range of materials – traditional and engineered wood, laminate, vinyl and tile – and results in a higher-end look.
·

Wirebrushed flooring is created by intentionally scratching the surface of the plank with a wire brush to expose and open up the wood grain to create texture, resulting in a smoother and more consistent look than hand scraped or distressed flooring. Wirebrushed flooring usually offers a cleaner lined, more refined look that complements any traditional or contemporary-style home. And an added bonus with wirebrushed flooring: it hides dirt really well, making it ideal for kitchens.
·

Distressed flooring, which, as its name implies, looks as though it's been through a lot of wear and tear and features scrapes, burns, knots, wormholes and more, giving it an aged, antique look. This type of flooring almost gives your space a historic look, making it the perfect choice if you live in an older home, your space has exposed brick or stacked stone walls, or if you have or are planning to have a farmhouse kitchen.
·

Reclaimed wood, which features the highest level of detail. Whether the real thing or not, you're looking at details like knots, nail holes and color variations. What you get is flooring that's quirky with a backstory, and the beauty of reclaimed wood-look flooring is it's much more affordable than the real thing and you get the same amazing results.
·

Porcelain, ceramic and stone tiles that are stamped to create ridges and patterns. They're another type of textured flooring popular with consumers because they're easy to care for, durable, won't fade in sunlight and are easy to clean. Tile is also water resistant, making it ideal for bathrooms.
Carpets and area rugs are also great for adding more texture to your space and there are many options available.
·

Frieze, or "twist" carpeting, uses densely-packed, twisted loops to create a choppy, wavy surface. Think of it as a modernized version of 1970s shag without the matting and flattening typical of shag pile. Frieze is also good at hiding dirt and footprints.
·

Cut-and-loop, often typical of patterned carpet, provides nice texture and visual interest by combining looped fibers with cut, or straight, fibers, resulting in the creation of a geometric or abstract design. With a mix of multicolored yarn, this popular style of carpet has become an instant favorite among those looking for a fun, updated change to an interior space.
·

Ribbed cut can be a cut-and-loop pile or a cut-pile carpet that's trimmed in areas to create sculpted designs. It may also have color variations throughout. Because its textured surface can camouflage marks and stains, a ribbed cut is a good choice for children's rooms or other high-traffic spaces. It's also velvety soft, making it a cozy and comfortable option for a bedroom floor.
Our design consultants have decades of experience and can help identify the right type of flooring to create just the right look for your space. We offer a wide selection of high-quality flooring with unbeatable customer service. Contact us to see how we can help you with your next project.