2020 flooring trends: Decorating tips for patterned flooring
Kermans Flooring
Patterned carpet, patterned ceramic and porcelain tile (or plain tiles installed in a pattern!), patterned hardwood, patterned area rugs … one of the biggest emerging home remodeling design trends of 2020 is bold, patterned flooring.
Discover which other flooring options homeowners are loving in 2020 »
Most homeowners feel comfortable adding little splashes of pattern to their home décor with drapes, throws, pillows, towels, and other types of "accessories," but many people aren't as confident when it comes to creating a dynamic room with lasting appeal when decorating with patterned flooring, which makes a lot of sense since flooring is a much more significant commitment. Plus, it makes a bigger visual impact on the overall look and feel of your room.
Keep reading to learn some expert decorating tips for picking out patterned flooring for your home that's the best reflection of you and your style.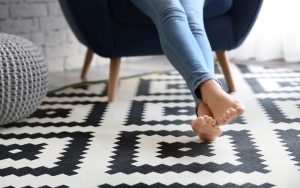 Subtly patterned floors
Your best bet for following this trend and getting a room that looks chic and elegant is to opt for neutral or monochromatic patterned floor products to add some interest but keep your floors a relatively "blank canvas" that you can build on.
You might also want to consider picking a basic flooring option and installing it in a tailored, geometric pattern—like herringbone, checkerboard, basket weave, hexagon, diagonal, windmill, chevron, staggered, or even pinwheel—for a softer finished look.
Find out what happens during the tile installation process »
Subtly patterned floors are an especially smart choice if:
You're remodeling a large room

You get bored quickly and want some flexibility to change up your room's look
You want to create a general sense of comfort and harmony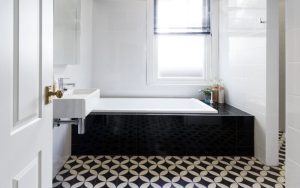 Striking, patterned flooring
Looking for a more adventurous look for your floors? You can make a big impact with colorful, designed flooring.
Since it's easy for distinctive patterned floors to overwhelm a room, you'll want to think about the look you're trying to achieve when making other interior design decisions so that you create balance. That might mean picking simple fixtures for in your bathroom or pairing your floors with traditional, simple furnishings in a small bedroom to make sure your flooring shines and doesn't create unappealing, hard-to-live-with visual clutter. Add more interest with different textures instead of pattern.
Striking, patterned flooring is a great option if:
You're renovating a small room

You don't do a lot of redecorating—once you find a look you love, you stick with it!
You want to create a feeling of kinetic energy, playfulness, and excitement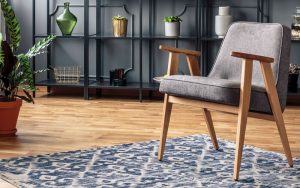 Not quite ready to commit to installing patterned floors?
Take patterned flooring for a test drive to see if it fits your style with an area rug. Area rugs are a great way to add some pizzazz to your room without making a permanent commitment to one distinctive look.
Check out Kermans' free area rug buyer's guide to learn everything you need to know to make the best decision when choosing a new area rug for your home.
---
Kermans' flooring design consultation services
Upgrading your floors is a big investment, and you have a lot of choices when it comes to patterned flooring. Need some help thinking through your options? If you are starting a home remodeling project and have questions, our flooring design experts are here to provide complimentary guidance.

Bring us all of your trickiest questions about flooring, and we'll give you proven ideas for getting the look you want—all without any pressure to buy.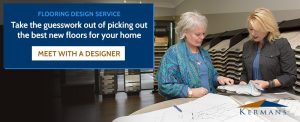 You might also like: