2020 flooring trends: Multi-colored marble
Kermans Flooring
Always a classic and luxurious option, marble flooring continues its reign as a popular natural stone option. It's long been a go-to, sought-after flooring choice for homeowners looking to make their home feel more like a palace.
During the Renaissance (14th-17th century), European artists used slabs of dense white marble for their Classical sculptures, including Michaelangelo's David statue.
It's those iconic white and light-colored marbles, like Carrara, that most people think of when they're considering marble flooring to brighten a room's atmosphere, but if you're looking to make more of a statement, marble also comes in a rainbow of more dramatic hues.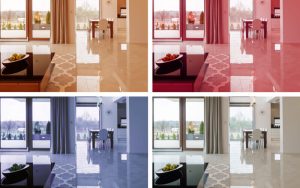 According to over 100 residential interior design trend hunters, colored marble floors is one of the biggest 2020 flooring trends for their elegant, unparalleled beauty and contemporary vibe.

Did you know … Marble is a type of metamorphic rock? That means, when limestone (with very few impurities) is put under pressure and exposed to increasing heat, it recrystallizes to form marble.
Color options for marble floors
To get a timeless, sophisticated-yet-modern look, you're no longer limited to white if you want to add marble flooring to your home.
No matter the color palette of your home, there's a richly-colored marble available—in a variety of shapes, sizes, and textures—from today's manufacturers. And, as one of the biggest 2020 flooring trends, you might have noticed colored marbles showing up more and more in top interior design magazines and when doing searches at Houzz and Pinterest.
Some of the different hues available for colored marble flooring include:
black
green
grey
blue
brown
red
beige
yellow
pink
Names of popular marble flooring colors
Azul Cielo
Azul Cielo is a striking type of blue marble—often from Argentina, Brazil, or Italy—that makes a bold choice for marble bathroom floors (with or without radiant heat), kitchen floors and countertops, entryways, and even eye-catching staircases.
Rojo Alicante
Rojo Alicante is a muted, warm red marble from Spain that's ideal for vibrant statement walls, living room floors, kitchen worktops and flooring, and beautiful marble bathroom floors.
Veining in colored marble
All types of marble are different because it's made by mother nature. Many décor pros consider the variety of flooring you get with this type of flooring one of its best features. Some multi-colored marble flooring is soft and uniform in look, but other kinds might have more pronounced veins, dramatic shifts in coloring, or both.
Over time, marble can also be a little unpredictable. As a homeowner, if you install colored marble flooring, it's not outside of the realm of possibility that you might notice subtle shifts in the color of veining in your marble floors as time goes by.
If you want the unique look of marble, but consistency in appearance and less maintenance are priorities for you, consider opting for engineered stone (including quartz) or high-quality porcelain tile. There are varieties of both of these easy-to-care-for materials that can strikingly mimic the exquisite look of colored marble, thanks to significant advancements in flooring manufacturing technologies.
Looking for colored marble flooring in Indianapolis?
No matter which type of flooring you're interested in—be it traditional white marble, trendy colored marble, flooring that looks like marble but performs better, or something else altogether—you don't have to figure out what will work best in your space on your own.
The experienced designers at Kermans are known for their expertise in all types of flooring. Drop by our showroom to talk about your remodeling project and get no pressure, personalized advice so you can figure out precisely how to get the floors of your dreams.
We're here to help. Let's talk.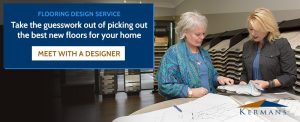 You might also like: