Color trends in the kitchen: all about the grays
Kermans Flooring
The kitchen is often a room that Indianapolis homeowners are looking to upgrade – new tile, adding a backsplash, replacing the floor are high on the list. Tile or wood are popular options for a kitchen and they work well with a current design trend for this busy room: gray.
There's no denying that gray is the new "it" color in home design. It's a modern neutral – both timeless and edgy. In lighter shades, it opens up a room and in darker shades it makes a room feel cozy. Gray is a great color in the kitchen because it goes just as well with contemporary styles as it does with more classic designs. All colors go well with gray from popular dark kitchen cabinets to citrus decoration accents. If you're looking to upgrade your kitchen, think gray!
Gray floors in the kitchen
Kitchen trends lean towards darker cabinets right now. Gray floors work particularly well with darker woods because they balance them out and keep the room from looking too dark or narrow. You can find gray floors in distressed wood options (or woods that are treated to look distressed – another popular trend). You can also look towards tile to find just the right shade of gray. Ceramics, slate or marble tiles bring different variations and shades of gray to any kitchen floor.
Gray tile backsplashes
Glass tile is a fantastic resource for a kitchen backsplash. Glass tile is easy to clean and available in a wide variety of shapes, sizes and shades. You can create an accent wall with glass tile or subtly open the room with a light gray shade that ties the room together. Here's a great example of gray in the floor and backsplash from our tile inspiration idea book on Houzz: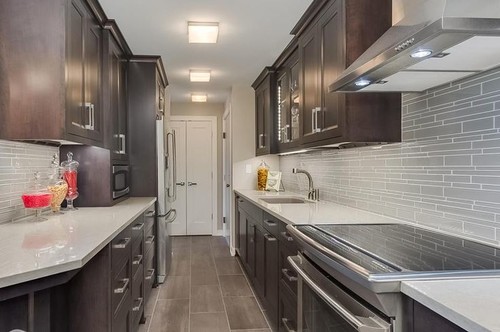 Creative backsplashes
While glass tile is a popular backsplash option, you can find gray backsplashes in a wide variety of materials. Metal tiles in particular lend an edge to the design while still being a practical addition to your decor.
Curious about how to make the most of this trend in your kitchen? Turn to the design staff at Kermans. Stop by our Indianapolis tile store and let us help you sort through your options and find the hidden gems that are just right for your kitchen update.
---